10 Swimwear That Made It To Our List This Year
Your one-stop selection from one-piece to rash guards
Get your swimmers ready! Summer is just right around the corner. You can already feel the heat last week, unfortunately, it got a bit chilly again this week. Nevertheless, now it's a good time to stock up on swimmers so you can have different styles to show off in the heat of summer this year! Whether you're going wild on a beach party in Miami, or just chilling by a hotel pool in Thailand, here are 10 swimwear that made it to our list this year, whatever style you're looking for:
1. Karla Colletto – Louise Cutout Denim Swimsuit
You can never go wrong with denim especially one in this particular color blocking fashion. Karla Colletto is an American swimwear designer has her designs incorporate with ideas of sophisticated swimwear, defining how underwater swimwear can be just as fashionable as daily wear.

This denim swimsuit makes you wonder if it's actually a swimsuit or just an everyday piece of clothing. There are plenty more other modern swimwear designs from this brand to check out!
2. Agua by Agua Bendita – Nativa Ruffled Printed Swimsuit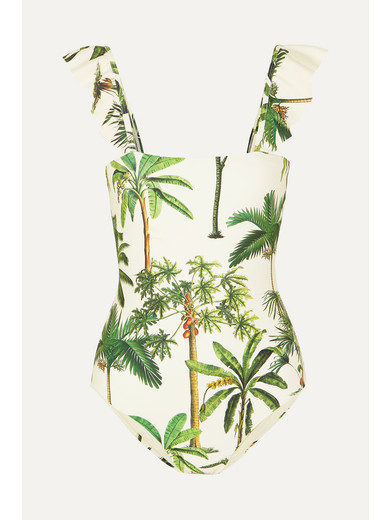 Two very proud Colombians dedicated their career in showing their world their beautiful home country by designing swimwear that best show Colombia's hidden gem. Beautiful tropical prints with frilly leaves, Agua by Agua Bendita is hitting all the right notes with the ladies – A strong outlook with a soft side.
3. Topshop – Scarf Print Bikini Set
You can certainly trust Topshop when it comes to keeping up with the trends. Hot on the list this year features the handkerchief bandana bandeau/ bikini. Slip on a pair of shorts and you'll do fine even as you do some summer shopping.
4. Urban Outfitters – Out From Under Printed Tie-Front One-Piece Swimsuit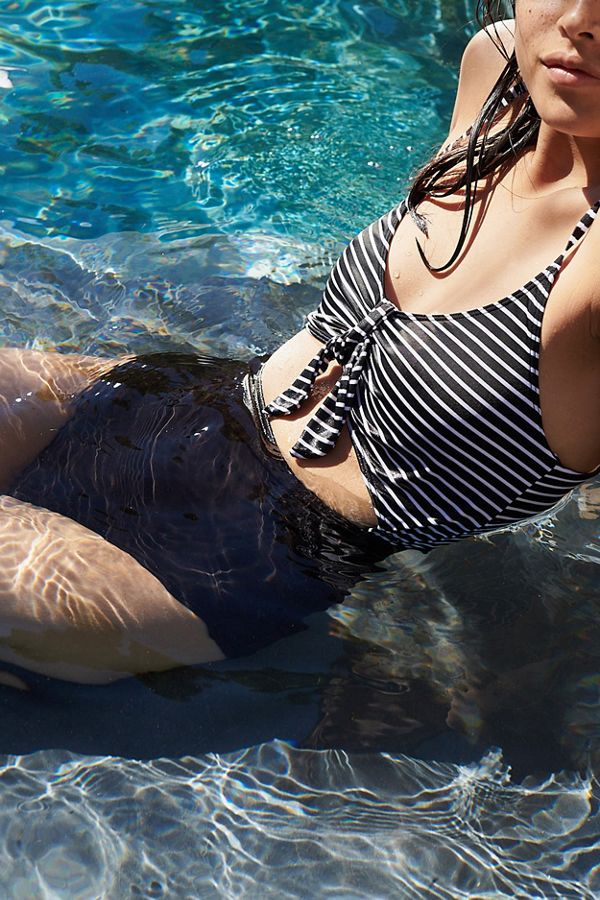 At a more affordable range, try this stripe tie-front piece that offers moderate coverage for those who'd like to show lesser skin. This set shouts a modern retro vibe all around it. If you're looking for something less revealing to wear, this would be a great choice.
5. Seafolly – Splendour Long Sleeve Surf Suit One-piece
Seafolly is an Australian swimwear brand that strives for excellence and best comfort for its customers. With its swimwear sold in 41 countries, Seafolly is your best go-to when you want to get a fashionable surf suit and swimwear. Their designs are unique and don't compromise comfort for fashion.

Every piece is designed to fit the human body shape and the aesthetic design is only built upon comfort. Check out their collection, from the famous surfing country in the world!
6. BFyne – Ines Set
Buki Ade is a Nigerian-American designer who aims to change the fashion industry with culturally inclusive designs. Every piece has a different style and print that shows off different ethnic values and culture. It's way more than just a piece of swimsuit, it's a sense of identity.
7. Zimmermann – Allia Elastic Tri Bra and Trim Pants
Zimmermann is not just good with their stunning long flowy dresses, in fact, their swimwear are all worthy of a second look! Try the Allia Elastic Tri Bra and Allia Elastic Trim Pants for cleaner tan lines and as a daily go-to swimwear.
8. Made By Dawn – Charlie Cut-Out Swimsuit
On a more fashionable front, give this Charlie cut-out swimsuit from Made By Dawn a try. You can mix and match the inner piece with other bikini tops and you'll still look fantastic. Definitely a Bond babe figure.
9. Reina Olga – Bowie Swimsuit
Have you heard that leopard prints are back? Here is a great sexy number from Reina Olga and we adore the details by the side. In a warm coral orange tone and a fitted silhouette, this one is gonna show all the right curves.
10. Johanna Ortiz – A Prayer For Spring Floral Bikini Set
If budget is not a concern, you're going to make heads turn (men and ladies) with this gorgeous piece from Johanna Ortiz. Looking more like a salsa party night out than a beachwear, we're sure you'll find various ways to optimize this one.
A little tip would be to pick a swimsuit that contrasts your skin tone and complements your body shape well. If you're tan, get a swimsuit that's brighter and vice versa. Contrasting colors work great in bringing out your body shape and accentuate your curves in the right way. With a wide selection of bikinis and one-piece swimsuits in our recommendation, you will be able to shine at any beach party or a chill out by the hotel pool any time of the day.